'Tis the season where candy becomes a diet staple, hot chocolate is a must, and shopping is everyones form of exercise. What season is this may you ask? Valentine's Day? No silly it's Christmas time (Or Hanukkah, Kwanza, etc. I don't discriminate against any type of holiday celebration). So what better way to prepare you for the season than to provide you with a list of my top 5 holiday movies: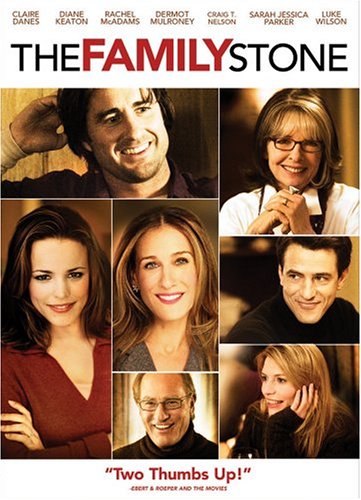 OK this might be the most depressing movie on the list (I'm not going to tell you why-you have to watch) but I absolutely love this Diane Keaton and Sarah Jessica Parker helmed holiday fleck. SJP (I love that we have the same initials-it makes me feel fancy) plays an uptight exec, the girl needs to clearly throw back a shot or two, who goes home with Dermott Mulroney to spend Christmas with his family. Unfortunately assimilating into the family routine is not a smooth transition for SJP and she is forced to call in her little sister, Claire Danes, for back up. Hilarity continues to ensue as SJP falls for Luke Wilson (Dermott's brother in the film) while Dermott falls for Claire. Apparently both families like to raise sluts and Wilson & Mulroney want to make 'Eskimo brothers' a literal term in this film. If you don't know what an Eskimo brother is 1) you apparently don't watch The League on FX and 2) you can check out the definition at urbandictonary.com right here: http://www.urbandictionary.com/define.php?term=eskimo+brother
Also stars: Craig T. Nelson (the dad from Coach) and Rachael McAdams
4. How The Grinch Stole Christmas
How the Grinch Stole Christmas has been a staple in my holiday movie watching routine for as long as I can remember. The story is just so classic and Dr. Seuss is one of my all-time favorite authors and his story 'How The Grinch Stole Christmas' is my second favorite book of his only to be beaten out by Green Eggs and Ham. IMDB summarizes the movie best in my opinion, "

a grumpy hermit hatches a plan to steal Christmas from the Whos of Whoville.

" I have to be very clear here though that I'm only talking about the cartoon version movie narrated by the one and only Boris Karloff. To me Boris' voice makes 'The Grinch' and no one can make me change my mind about this. That second-rate live action version starring Jim Carrey and Taylor Momsen can throw itself off a cliff and just die for all I care.
3. All I Want For Christmas
A holiday movie starring a young Ethan Embry and an adorably tiny Thora Birch as a pair of siblings getting ready to celebrate their first Christmas post-parents' divorce. After Birch goes to the one and only Santa at Macy's (because you know he's the real one and all) and asks that he gets her parents back together for Christmas, Embry goes onto to play the heroic big brother by employing various schemes to try to ensure his sister's Christmas wish comes true. This movie is a fun, family movie that if you don't enjoy means you have a heart made out of black coal. Also a major bonus you get to see Leslie Nielsen dressed up as Santa!
Ok I have to admit picking my top two holiday movies has like been being forced to pick my favorite child (not that I have kids but I assume the decision would be just as agonizing). This
Macaulay Culkin starring film is a CLASSIC! I watch it at least 20 times during the holidays. In fact I used to wish I would be left home alone just to see if I could be as cunning and creative as Kevin. (And for an extra tidbit about Stephanie-I considered Kevin McCallister my dream guy for my much of my childhood. I always went for the rebels). If nothing else this movie provides an excellent example for neglectful parenting skills as well as helpful anti-burglary tips.
Favorite line of the movie: "Buzz your girlfriend…woof!"
1.
National Lampoon's Christmas Vacation
Ok I LOVE, LOVE, LOVE, LOVE, LOVE National Lampoon's Christmas Vacation-it's the most perfect movie ever made. My family loves this movie so much that every Christmas Eve we watch it while drinking margaritas on the rocks (we feel pretty damn good by the end). If you haven't seen it 1) why am I friends with you? and 2) stop reading immediately and go buy, rent, or heck even steal it. Yes steal it-you might acquire a criminal record but your life will be utterly complete now that Christmas Vacation has entered it. What makes this movie so great?

Well to give you a simple but totally unhelpful answer it's just AWESOME! But if you need to know more, the film chronicles the Griswold's family Christmas which is full of awkward and embarrassing family moments, sarcastic banter between neighbors, and decadent light displays. Also it provides some of the greatest lines ever mentioned in film such as :
"

Merry Christmas, Merry Christmas, Merry Christmas, kiss my ass, kiss your ass, kiss his ass, Happy Hanukkah..."
"Merry Christmas. The shitter was full."
"
Aunt Bethany, does your cat eat jello?
"
"
She falls down a well, her eyes go cross. She gets kicked by a mule. They go back. I don't know"
Clark: "
It's a membership to the Jelly of the Month Club."
Eddie: "Clark, that's the gift that keeps on giving throughout the entire year.
"
Well folks there you have it, my top 5 Holiday movies. If you don't like them well first I'd like to say kiss my ass and secondly I'd love to hear what yours are so leave me a comment giving me insight into what I'm missing out on.